| | |
| --- | --- |
| | |

Available by special request only:
DIRECT CRANK SENSOR SYSTEM
- This triggering method has been superceded by the Mini Sensor system.
Light Speed Engineering, LLC has developed three different devices to send crankshaft position information to the Plasma CD ignition systems. One method uses the Hall Effect Module which is installed in the accessory case and senses crank shaft position by means of the non-impulse magneto drive gear. The second mechanism is the Mini Sensor described on the Mini Sensor page located here. The old style triggering mechanism is the Direct Crank Sensor system described here.
The Direct Crank Sensor triggering mechanism is versatile and will work with most aircraft engines.
All 6-cylinder engines and all Continental engines must use the Direct Crank Sensor or the Mini Sensor.
The crank sensor circuit board has two completely independent triggering circuits if it is used for dual Plasma CDI applications. On single installations only the outer set of sensors and associated wiring harness is installed.
---

Lycoming Direct Crank Sensor Installation
Lycoming
Crank Sensor
Mounting
Bracket
Installation.
Sensor Plate
Installation
on a
Lycoming
Engine.
Trigger magnets are installed in flywheel on Lycoming & Lycoming-type engines.

Large diameter alternator
pulley required (8.5" ID).
---

Lycoming Narrow-Deck Direct Crank Sensor Installation

---


Continental 6-cyl Crank Sensor Installation
Also applicable for Franklin 6-cyl. engines.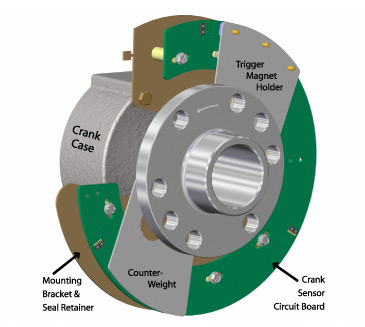 Pictured above are the trigger magnet holder, counter weight, and crank sensor mounting bracket designed specifically for Continental 550 engines. Add $195 to the ignition system price.
---
Continental O-200 Crank Sensor Installation
The crank sensor mounting bracket and trigger magnet plate designed specifically for the Continental O-200 engine are pictured below. Add $195 to the ignition system price for installation on a Continental engine.
Crank Sensor
Mounting
Bracket
Installed


Direct Crank
Sensor
Board
Attached to
Crankcase
Mounting
Bracket

Crank
Sensor
Board and

Trigger Magnet

Bracket

Installed.
---