PLASMA II PLUS
CAPACITIVE DISCHARGE IGNITION SYSTEM
| | |
| --- | --- |
| | |
| Plasma II+ CDI with Direct Crank Sensor | Plasma II+ CDI with Hall Effect Module |

The PLASMA II PLUS is a distributorless Capacitor Discharge Ignition system designed to replace the archaic magnetos on aircraft engines.

Like all Light Speed Engineering ignition systems, the PLASMA II PLUS features automatic ignition advance based on engine load and RPM, auto retard for starting and a standard pulse tachometer output

All PLASMA II PLUS and Plasma III Capacitor Discharge Ignition systems have the following options installed:

Key-Switch Option
The key switch option built into the PLASMA II PLUS allows the use of a standard aircraft key switch to turn the system on and off. A single conductor shielded wire is routed to the key switch just like the P-Lead from a magneto. Connecting the center-conductor with its shield at the key switch disables the PLASMA CDI without drawing any current.
Timing Output
The timing output enables the pilot to monitor the ignition timing of the system at all times of operation. A digital voltmeter or a designated digital mV display can be used to display the actual timing down to 1/10th of a degree. During startup this display would typically read 00.00 degrees, at high power conditions it will show approx. 25 degrees and during low power operations it will show as much as 42 degrees of timing advance. Should there be an electronic malfunction inside the ignition system it would be reflected by erroneous timing indications.*
RPM Output
Included in the options of the PLASMA II PLUS is a built in analog tachometer output. This provides RPM information for a mV meter. 0.3 volts represent 3,000 RPM, .0 v = 0 RPM.*
Absolute Manifold Pressure Output
The manifold pressure display option uses the calibrated and temp compensated manifold pressure information of the PLASMA CDI and allows it to be displayed on a digital mV meter.*
5V Power Supply Output
If a permanent digital LCD display is used in the cockpit for any or all of the display options, the PLASMA CDI has a 5V power output to run the display. Thus, no extra wires need to be run from the electrical bus.
Potentiometer Option
A potentiometer can be used to bias the timing curve in flight from the cockpit. This option is primarily useful for engine testing and racing applications. Caution, this feature allows the pilot to retard and over-advance the ignition timing, thus, potentially harming the engine and ruining your day.
Interconnect Link
The interconnect feature connects two PLASMA II CDI ignition systems together. If one system is disabled, the one remaining in operation will automatically readjust the timing curve for optimum power with a single system. It is not necessary to use this feature but it is helpful to optimize performance if only one ignition system is used due to an alternator failure. With the interconnect feature in use there is virtually no ignition drop when each system is turned off. Otherwise, a normal ignition drop-off occurs during system tests.
Hall Effect Sensor Module installed on 4 cylinder Lycoming type engines only.
On Turbo and Super-Charged systems, add $125 per ignition system.
On all Franklin and Continental engine ignition systems, add $195 per engine installation.
---
The Simpson digital panel meter, available through Light Speed Engineering, is a high quality LCD display. It fits into a 0.88in x 2.68in panel cutout and is only 0.5in deep. You can use three displays for all three functions or select the functions on a rotary switch linked to one display.
Simpson LCD Display. Top installation reads timing advance and bottom installation reads manifold pressure. Rotary switch not depicted.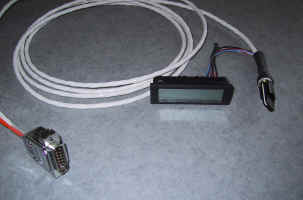 Pre-wired display and rotary switch option available for the Plasma II Plus and Plasma III CDI ignition systems. Specify length from your Plasma CD box location to the panel mounting location (plus that required to route the wire) when ordering. If you are ordering the display for a dual ignition system, also specify the length between the output connectors on the 2 Plasma CD boxes.