One of the most common questions heard at Light Speed Engineering is about the use of auto fuel with the Plasma CD ignition. The research conducted by Cesar Gonzales as detailed in his paper and EAA Oshkosh forum presentation, Can General Aviation Survive with A Lower Octane Unleaded Avgas, describes the factors involved with using auto fuel. Cesar Gonzalez's work and other independent studies have shown that the use of electronic ignition with adequate spark plug gap and adequate spark energy can lower the detonation margin by 2 - 3 octane points.
This also means that the use of an accurately timed high energy ignition system such as the Plasma CDI reduces the octane requirement and thus makes it safer to operate the engine near its performance limits. Something most racers long figured out.
CAN GENERAL AVIATION SURVIVE WITH A LOWER OCTANE UNLEADED AVGAS?
Paper and presentation by Cesar Gonzalez.
Document reproduced here with authorization from the EAA and Cesar Gonzalez.
---
Klaus Savier, President of Light Speed Engineering, LLC, published a series of two ignition articles in Sport Aviation.
April 1990, ELECTRONIC IGNITION FOR AIRCRAFT (prt. 1)
February 1995, ELECTRONIC IGNITION FOR AIRCRAFT (prt. 2)
---
From the German leading aviation magazine
'AEROKURIER 9/97'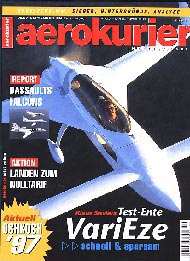 Klaus Savier and his VariEze: Super Fly and Save
Born in Germany, Klaus Savier has acquired a name with aircraft tuning, electronic ignition, and composite accessories in the experimental aviation scene. He has achieved unbelievable results including two world speed records with his test-bed VariEze. Klaus's efficiency modifications have improved performance allowing him to travel at top speeds with record setting minimum fuel burn.

In this report, Klaus Savier explains the secret to his success. His aircraft electronic ignition kits are well known among homebuilders. Not only because they provide significant improvements in fuel efficiency but because one ignition system typically generates 4% more horsepower than a magneto and a dual system can realize over 6% more horsepower than two magnetos.