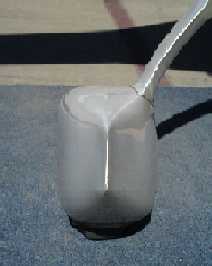 LIGHT SPEED ENGINEERING, LLC WHEEL FAIRINGS
This series of race proven wheel pants are designed and built with minimum drag and weight in mind. Boundary layer tests with sublimating chemicals show attached flow to the trailing edge.
MEDIUM SIZE: Weighs 1.6 lbs. and fits Lamb tires on stock Cleveland wheels. Most popular on Long-EZs and RVs.
Dimensions: 7.7" w x 10.35" h x 36" l
LARGE SIZE: Weighs 1.9 lbs. and fits 500x5 tires.
Dimensions: 7.85" w x 12.1" h
All wheel pants are made of woven fiberglass and epoxy.
A molded vertical lapjoint allows easy removal for wheel inspection.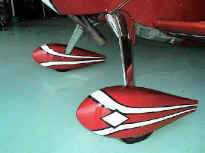 Vintage Aviation's LSE Wheel Fairing Installation on a Pitts Special