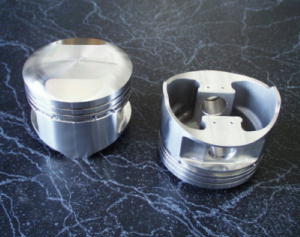 Light Speed Engineering, LLC's O-200 Pistons


Finally, a state-of-the art piston for the Continental O-200 engine. Designed and optimized in 1985 to win the Cafe race, Light Speed Engineering developed this light weight forged piston for maximum sustained hp output with 100LL aviation fuel. With a recommended compression ration of 9.4:1, 115-120hp can be achieved at rated RPM. Significantly reduced clearances are used and a near perfect cylinder bore is expected. Standard bore size (+).015" as well as various compression ratios are available as custom orders. Low drag molly faced piston rings require no special break in period and yield approximately 15hrs / qt of oil. The pistons include all piston rings and wrist pins. Please see the on-line order page for prices and ordering information.
Note: A much lighter and slightly larger wrist pin is used, requiring re-sizing of the connecting rod bushings.
Set of 4 Forged Pistons
$1,195

Prices and

specifications subject to change

without notice.

CA residents add 7.50% sales tax. Shipping not

included. Visa & Mastercard accepted.