| | |
| --- | --- |
| | |
| LSE Vari EZE | Jon Johanson's RV |




LIGHT SPEED ENGINEERING'S ELECTRONIC IGNITION SYSTEMS

Light Speed Engineering, LLC (LSE) is a pioneer in the design and production of ignition systems for experimental aircraft.

Nineteen years of research and development have been invested in producing the PLASMA CDI (Capacitive Discharge Ignition) system product line. LSE's PLASMA CD systems are the ideal replacement for yesterday's magneto technology. You can replace one mag with a PLASMA CDI or, for maximum performance, replace both magnetos with these state of the art systems.




The Plasma CDI is a solid-state, high performance ignition system intended for today's home built aircraft. Light Speed Engineering currently offers two Capacitive Discharge Ignition Systems: the PLASMA II PLUS and the PLASMA III. They are available for Lycoming, Continental, Franklin, and other aircraft engines with even number cylinders.

Standard Plasma CDI kits include: triggering mechanism (DCmini Sensor or Hall Effect Module only available for 4-cyl. engines ), high tension leads, harness, spark plugs, spark plug adapters, and ignition coils with mounting bracket. One or two systems can be used.



Accessory case driven Hall Effect Sensor Module available for all 4-cyl Lycoming and Lycoming type (i.e. Superior, ECI...) engines.

Custom timing curve on all Turbo and Super-Charged ignition systems, add $125 per ignition system.
Laser cut mounting bracket, magnet holder and counter-weight on Continental engine ignition systems, add $195 per engine installation.
Optional RPM Limiter feature available for Plasma III systems, add $275.




The following capabilities and output features are included on all Plasma II Plus and Plasma III ignition systems:

*Key Start Option- Allows the use of aircraft key switch
*Output 1- Timing Advance
*Output 2- Manifold Pressure
*Output 3- RPM
*Output 4- (+)5V Power for the optional LCD Display
*Cockpit adjustable timing advance
*Interconnect- for Dual PLASMA CDI



PLASMA II PLUS

The PLASMA II Plus is Light Speed Engineering's basic electronic ignition system for aircraft. It is a lightweight, high-energy capacitor discharge system containing all of the essential Plasma CDI features. Its smaller size and lighter weight sets it apart from any other ignition source.

Like all LSE ignition systems, it features automatic ignition advance based on engine load and RPM, auto retard for starting, and a standard pulse tachometer output.


--------------------------------------------

PLASMA III

The PLASMA III is Light Speed Engineering's high performance continuous spark capacitor discharge ignition system. The Plasma III has a dual output stage which allows the spark to oscillate back and forth for a minimum of 20 degrees crankshaft rotation. This long duration spark allows further leaning without lean misfiring for added fuel efficiency it also noticeably increases horsepower output and engine smoothness.
The PLASMA II PLUS and the PLASMA III have the output capabilities listed above (click here) and they are pin compatible.



Timing advance, manifold pressure, and RPM information can be read in the cockpit using Light Speed Engineering's pre-wired digital display- option available with PLASMA II PLUS and PLASMA III systems. (Not included with systems.) Follow this link for more information on the pre-wired display: Digital Display.

All Light Speed Engineering ignition systems have automatic spark retard for starting. This allows both magnetos to be replaced with two PLASMA CDI systems.


---
PLASMA CDI TRIGGERING MECHANISMS
Light Speed Engineering is building on the proven performance of the Direct Crank Sensor design for the new DC Mini Sensor. It uses the same Hall Effect Sensor technology we have used with great success for the past 14 years but is smaller, lighter and more robust integrated package.
Additional information can be found on the Mini Sensor page.
Available by special request only:
DIRECT CRANK SENSOR.
This has been superceded by the Mini Sensor.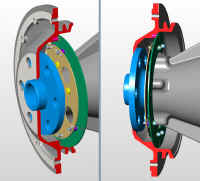 The direct crank sensor system provides complete redundancy for single or dual Plasma CDI systems. This crank sensor concept requires removal of the flywheel for installation. Integrated magnets in the flywheel are used to trigger miniature hall effect sensors mounted on LSE's proprietary circuit board. This sensor board is mounted to the crankcase via custom brackets for Continental and Lycoming engines.
6-cyl engines and engines equipped for single drive dual magnetos use the direct crank sensor assembly or the DCmini Sensor assembly.

Further information on the direct crank sensor triggering mechanism may be found on the Crank Sensor page.



ACCESSORY CASE HALL EFFECT SENSOR MODULE
(4-CYL. LYCOMING & LYCOMING TYPE)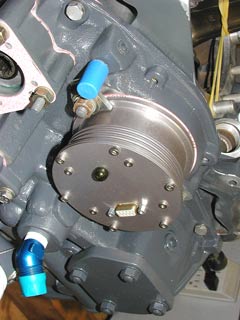 Light Speed Engineering, LLC's Plasma Capacitive Discharge Ignition systems employ the latest hall sensor technology to provide maximum reliability and easy installation on Lycoming engines. The Hall Effect Sensor Module is installed in place of the magneto and driven by the gear from a non-impulse magneto. A built in timing light makes the installation easy and reliable. The primary benefit of this triggering device is its straight forward installation. Simply fit the module with a non-impulse drive gear and mount it in your empty mag hole-- effectively plug and play.

4-cyl Lycoming engines are capable of using either the Hall Effect Module mounted in place of the magneto or the direct crank sensor assembly for crankshaft position information. This accessory case mounted Hall Effect Module replaces single magnetos on Lycoming (or Lycoming- type) engines. Two modules can be used to provide full trigger redundancy with dual electronic ignition installations.
* Non-impulse drive gears not included.